Fire, Police, & EMS Specialty Vehicles by North Central Emergency Vehicles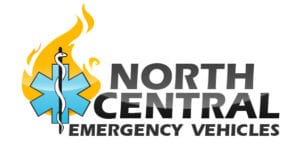 At North Central Emergency Vehicles, we are always looking for ways to improve our product and service offerings to better deliver on our customers' needs. When it became apparent that there were certain types of specialty vehicles that weren't supplied by the manufacturers we represented, we got to work in creating and customizing specialty vehicles ourselves. We had the expertise and the equipment, so why not put them to good use to provide our EMS and fire professionals the specialty vehicles that they required?
In the past, we have manufactured in-house many Type II ambulances mounted on Freightliner, Dodge, or Mercedes Sprinter vans. Most of these Type II ambulances that we built featured a 170" wheelbase, something that a lot of other ambulance manufacturers were not producing at the time. The deliveries on these specialty Type II ambulances ranged from Minnesota to New Jersey and Florida. The development of these vehicles got us started on customizing in-house and expanded our resources and skill set, which we have applied to our current line of offerings for other specialty type vehicles in the EMS, fire, and police industries.
Wondering what kind of specialty vehicles we have had a hand in producing? Check out our list below as well as example photos from our project vault.
Converted other vehicles (like Sprinter vans, buses, and delivery vans) into things like swat vehicles, command centers, etc.
Built cabinets and installed emergency lighting for various specialty vehicles
Converted SUVs and cars for EMS, Fire and law enforcement vehicles
Developed grass trucks with skid units on pickups or custom bodied grass trucks
Built various rescue trucks
Converted ATVs to fire and EMS vehicles
Specialty Vehicle Project Examples
Click on the thumbnail images below to see gallery photos of each state of the remount process!
If You Can Dream It, We Can Do it!
Our skills are not limited to the list above but only give a sampling of what we are capable of producing here at North Central Emergency Vehicles. Have a concept or dream specialty vehicle in mind? Call us or use our easy contact form online to begin turning that dream into a reality!
From start to finish, North Central Emergency Vehicles will work with you to find the best solution for your needs. Each project is different here – that is why they are referred to as specialty! – so working out the details is one of the most important steps in the process. And there should be no worries about your vehicle having any regulation issues. We follow all QVM, FMVSS, NFPA and other guidelines to make sure your specialty vehicle meets all regulation protocols.
We have you covered every step of the way, so call us today and let's get started on your own specialty vehicle project!