Ambulance Remounts Equals Ultimate Savings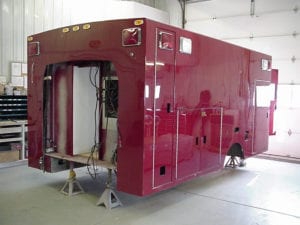 Hardworking and reliable people are what make up today's EMS and rescue squads around the country. But what good can these individuals do if they don't have a vehicle that is just as hardworking and reliable to get them to where they are needed the most? Eventually an ambulance will become so old that routine maintenance will not be able to keep up with the issues that it will acquire over time. If your department cannot afford a brand new emergency vehicle or you just like to consider all of the more affordable options available, consider an ambulance remount!
While a chassis lifespan is limited, your ambulance body is capable of lasting a lot longer. So why not continue to use what you have already paid for? Our customers average a 30-50% savings on any full size ambulance remount in comparison to buying a brand new emergency vehicle. Saving $50,000 – $80,000 by opting to do an ambulance remount is not unusual at all. Some of our Braun ambulance customers have remounted their vehicle FIVE TIMES and have over a million miles on the module. The money they have saved by deciding to do an ambulance remount as opposed to always buying new is astronomical!
Trust North Central Emergency Vehicles with your next ambulance remount. All of our work is done in house by a full staff where every member has 15-20 years experience. We can convert ambulances from Type III to Type I and remount onto any chassis – Ford, Chevrolet, RAM, International, Freightliner, Kenworth – you name it! From chassis prep to full interior modifications and completely refurbishing your current module, we have it covered from front to back and will deliver your ambulance back to you looking brand new.
North Central Emergency Vehicles is a Braun Ambulance and Ford QVM certified remount facility and follows all FMVSS and NFPA guidelines, so you can rest assured that your newly remounted ambulance is compliant and follows all applicable regulations. And because we know that some departments rely heavily on their limited emergency vehicle fleet, we have plenty of loaner vehicles that you can choose from while we work to remount your ambulance.
Certifications
Ford QVM (Qualified Vehicle Modifier) Certified Remount Center

Braun Ambulance Certified Warranty and Repair Facility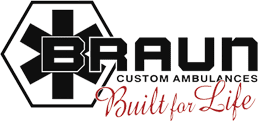 Before and After Ambulance Remounts
Click on the thumbnail images below to see gallery photos of each state of the remount process!
Ambulance Remount Package Options
We can do as little or as much work that is needed to get your ambulance back up and running in tip-top shape. Below are common upgrades that we do along with the actual remounting of your ambulance module.
North Central Remount Features:
New Cab and Chassis with Ambulance Prep Package
Optional 20″ Cab extension (offers increased storage)
New Front control console with updated switching and controls
New main front wiring harness for all cab hook-ups
Full inspection, repair, and upgrade of module wiring system
New grille and intersection light housings and lights
New siren speaker housings and speakers
Module completely stripped and refinished to "as new" quality
Sprayed polyurethane coating in outside storage compartments
Entry doors refurbished with new latches and hardware
New weather strip on all entry doors and compartment doors
All door jamb switches replaced with new magnetic style
Interior cabinet modifications made to customer specifications
Front organizer console custom built to fit customer's needs
All upholstery replaced and repaired as needed
All new flooring – includes stripping old flooring and sub-floor prep
All new lettering, striping, and graphics, per customer specs
Remount Warranties
2 year/30,000 mile NCEV conversion limited warranty
2 year/30,000 mile electrical parts and labor limited warranty
4 year/48,000 mile PPG Paint finish limited warranty
Loaner Vehicles Available!
You don't need to stress about being short-handed on trucks while your ambulance is being remounted – North Central Emergency Vehicles offers dependable loaner ambulances while yours is at our shop getting refurbished with a new chassis and other upgrades!