Maintenance and Repairs Plans
It is important for every EMS department to have a good preventative maintenance and service program in place. Maintenance plans help to prevent breakdowns during emergency call situations, prolong the life of the vehicle, and avoid more expensive repair costs in the future. It is also a major safety issue. There have been patients and EMS personnel killed because of a lack of proper maintenance on the emergency vehicles that were being used. The goal of a good preventative maintenance program is to keep the emergency vehicle on the road longer and more reliably.
When choosing which dealership you will work with to establish your emergency vehicle maintenance plan, there are a few things to consider.
Does the dealership have:
Qualified personnel – North Central has ASE certified master mechanics and we also maintain certification with Spartan, Braun, PPG, Waterous, Weldon, etc., as well as being a certified EVT (Emergency Vehicle Technician).
Quality compatible replacement parts are used in the repairs
Proper facilities and record keeping are exercised – All repair history is stored and tracked on our computer repair order system.
Access to the proper equipment needed to do any repair job required – We have all of the equipment needed to do any repair your emergency vehicle needs, from lifts that can raise fire apparatus to the specialized scan and downloading tools for Multiplexing systems.
On-site services – North Central can provide on-site services for some repair jobs and also offer a pick-up and delivery service as well.
Towing services to get your vehicle on-site if it's not drivable – We have flatbeds and tow trucks to get your emergency vehicle to our shop if it has major problems or is not safe to drive.
Maintenance Plans
Regularly scheduled maintenance intervals usually occur ever 2,500 or 5,000 miles. Each mileage level includes different service procedures and inspections.
All inspections all include oil, filter, lubrication and a 254 point check list, including a test drive.
10,000 mile services include the above PLUS: changing air and fuel filters, servicing the transmission, load test batteries, test fan clutch, rotate all tires and balance, check front wheel alignment, check air conditioner pressures, cold start test on diesels and put engine on scope with tune-up for gasoline engines.
20,000 mile services would include all the above PLUS: changing rear axle grease.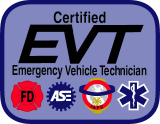 SERVICES OFFERED
Some of the services we offer are:
Routine maintenance
Engine repair and rebuilding
Transmission repair and rebuilding
Tires, brakes and alignments for all sizes of apparatus
Suspension
Steering
Drive line and differential
Air conditioning/ heat management/ radiator
Drivability issues
Electrical/computer/alternator/ battery systems
Apparatus and module repair – weather stripping/ latches/ handles/ electrical
Collision repair and repainting
Pump testing/repair
Foam systems
Part fabrication