North Central provides quality with Osage Ambulances!

Since Osage opened its doors in 1985, they have become a premier ambulance provider while still maintaining their focus on customer satisfaction and service. Osage Ambulances can prepare a custom truck for your department that will meet your crew's needs. North Central offers a variety of Osage models, including the Type I & Type III Warrior and Super Warrior and the Type II Travois. Each model is available on a variety of chassis and includes features that make Osage ambulances a quality ambulance manufacturer.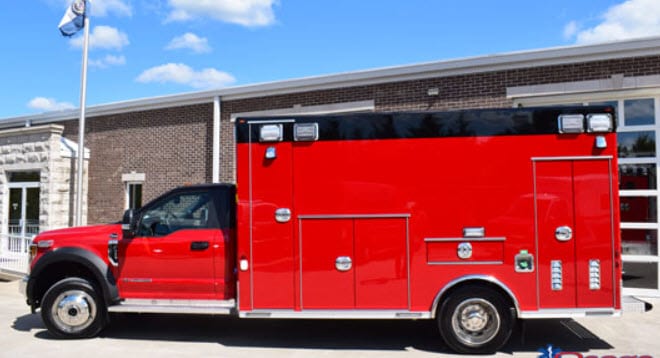 Osage's Type I ambulances are built with totally seamless body construction to ensure the safety of your patients and crew. Osasge offers two Type I ambulances – the Warrior and the Super Warrior. Type I ambulances are available on the Ford F-450 and the Dodge 4500 chassis. These units can be customized to meet the needs of your department. Osage's Type I ambulances offer a safe and reliable option for departments looking for a standard emergency response vehicle.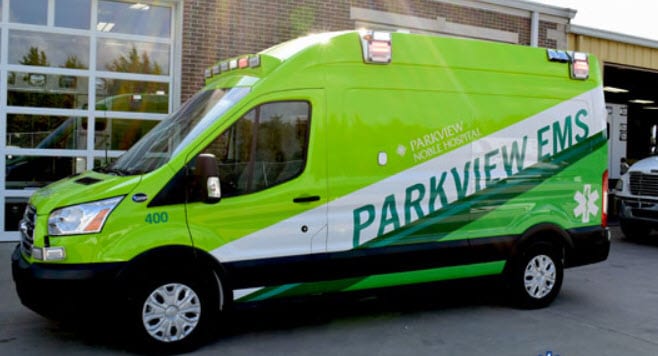 Type II ambulances are often used as transport ambulances due to their smaller size/weight; this means they get better gas mileage! While the size of Type II ambulances can slightly limit on-board capabilities, they provide a transport ambulance at a lower cost. Osage manufactures one model of Type II ambulances, the Travois. The Travois is available on a Ford Transit or Mercedes Sprinter chassis and can be customized to meet the needs of your department!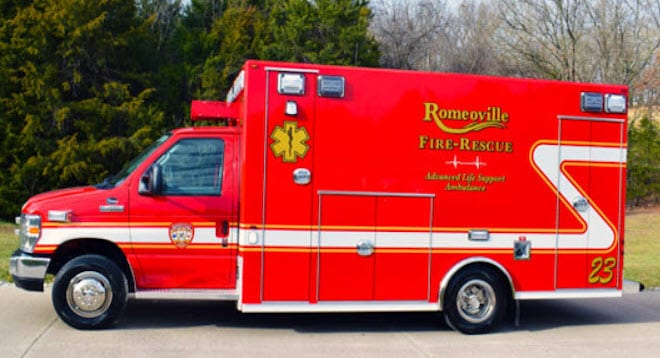 Osage's Type III ambulances offer Warrior and Super Warrior models, mirroring the Type I ambulance models. These units are also built with totally seamless body construction. Customers can opt for a Ford E-350 or a Chevrolet G-3500 chassis and have the option to customize their units to meet the needs of their department.
Osage Model Specs and Drawings
Click on any of the models below and view the specs for that model. Model drawings and download specifications are also available!
| | | |
| --- | --- | --- |
| | Ford F-450 | Dodge Ram 4500 |
| Wheel Base (w/ Dual Rear Wheel) | 169″ | 168.5″ |
| GVWR | 13,000 lbs | 16,500 lbs |
| Engine | 6.7 L Turbo Diesel | 16.7 L Cummins Turbo Diesel |
| Transmission | Torqshift 6-Speed Automatic w/ Tow/Haul feature | Aisin 6-Speed Automatic |
| Drive Type | 4×2 or 4×4 | 4×2 or 4×4 |
| Module Dimensions | 148″ L x 83″ H x 96″ W | 148″ L x 83″ H x 96″ W |
| Interior Headroom | 68″ | 72″ |
| Aisle Width | 49″ | 49″ |
| Standard Drawings | Download | Download |
| Standard Features | Download | Download |
| | | | |
| --- | --- | --- | --- |
| | Ford F-450 | Dodge Ram 4500 | International Terrastar |
| Wheel Base (w/ Dual Rear Wheel) | 193″ | 192.5″ | Variable as ordered |
| GVWR | 16,000 lbs | 16,500 lbs | 19,000 lbs |
| Engine | 6.7 L Turbo Diesel | 16.7 L I6 Cummins Turbo Diesel | Maxxforce 7 300 HP Turbo Diesel |
| Transmission | Torqshift 6-Speed Automatic w/ Tow/Haul feature | Aisin 6-Speed Automatic w/ Tow/Haul mode | Allison 1000 EVS 5-Speed w/ Overdrive Automatic w/ Park Pawl |
| Drive Type | 4×2 or 4×4 | 4×2 or 4×4 | 4×2 |
| Module Dimensions | 168″ L x 91″ H x 96″ W | 168″ L x 91″ H x 96″ W | 168″ L x 91″ H x 96″ W |
| Interior Headroom | 72″ | 72″ | 72″ |
| Aisle Width | 49″ | 49″ | 46″ |
| Standard Drawings | Download | Download | Download |
| Standard Features | Download | Download | Download |
| | | | |
| --- | --- | --- | --- |
| | Ford Transit | Chevy G-3500 | Mercedes Sprinter |
| Wheel Base (w/ Dual Rear Wheel) | 148″ | 155″ | 144″ |
| GVWR | 9,500 lbs | 9,900 lbs | 8,550 lbs |
| Engine | 3.5L EcoBoost V6/310HP @5,500RPM 400 lb.-ft Torque @ 2,250 RPM | 6.6 L Duramax Diesel w/ Block Heater wired to the Shoreline GFI Protected | 3.0 Liter V6 Diesel |
| Transmission | 6-Speed Automatic OD w/Select Shift | 6-Speed Automatic | 5-Speed Automatic |
| Interior Headroom | 74 3/4″ | 66″ | 73 3/4″ |
| Standard Drawings | Download | Download | Download |
| Standard Features | Download | Download | Download |
| | | | |
| --- | --- | --- | --- |
| | Ford E-350 Gas | Chevy G-3500 | Mercedes Sprinter 3500 |
| Wheel Base (w/ Dual Rear Wheel) | 138″ | 139″ | 144″ |
| GVWR | 11,500 lbs | 12,300 lbs | 11,030 lbs |
| Engine | 6.8 L EFI Triton V10 Gas | 6.0 L Vortec Gas V-8 w/ Block Heater | Bluetec SCR Diesel |
| Transmission | 5-Speed Electronic w/ Overdrive | 6-Speed Automatic | 5-Speed Electronic w/ Overdrive |
| Drive Type | 4×2 | 4×2 | 4×2 |
| Module Dimensions | 148″ L x 83″ H x 94″ W | 148″ L x 83″ H x 94″ W | 144″ L x 89.5″ H x 86″ W |
| Interior Headroom | 68″ | 68″ | 66″ |
| Aisle Width | 49″ | 49″ | 46″ |
| Standard Drawings | Download | Download | Download |
| Standard Features | Download | Download | Download |
| | | |
| --- | --- | --- |
| | Ford E-450 Gas | Chevy G-4500 |
| Wheel Base (w/ Dual Rear Wheel) | 158″ | 159″ |
| GVWR | 14,500 lbs | 14,200 lbs |
| Engine | 6.8 L EFI Triton V10 Gas | 6.0 L Vortec Gas V-8 Engine w/ Block Heater |
| Transmission | 5-Speed Electronic w/ Overdrive | 6-Speed Automatic |
| Drive Type | 4×2 or 4×4 | 4×2 |
| Module Dimensions | 168″ L x 87″ H x 96″ W | 168″ L x 87″ H x 96″ W |
| Interior Headroom | 72″ | 72″ |
| Aisle Width | 51″ | 51″ |
| Standard Drawings | Download | Download |
| Standard Features | Download | Download |