North Central now offers Demers Ambulances!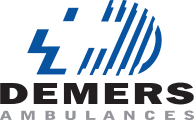 Demers Ambulances pledges to offer its customers innovative products and services with the quality level required to meet safety standards and their customers' expectations. Each Demers Ambulance is built with crew and patient safety in mind. With superior overall design and craftsmanship, Demers vehicles combine safety, innovation and quality – all with the goal of getting you home safely. Demers offers the highest quality vehicles, making them the best investment in the industry. Learn more about Demers Ambulances today!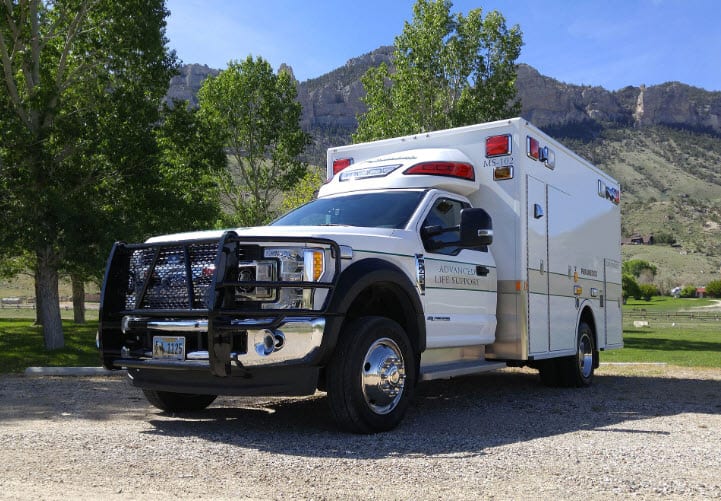 Demers MXP 150 Ambulance is equipped with features selected with you and your patients in mind. Built to handle a wide range of conditions and environments, the MXP 150 combines a rugged exterior with top-of-the-line design details, like superior insulation and isolation from the harsh elements. From its features to its functionality, Demers MXP 150 Ambulance is ready to elevate your patient care experience.
Beyond taking on extreme conditions, Demers MXP 170 Ambulance combines versatility with a spacious interior full of exclusive design features. The MXP 170 comes with many design features, such as LED-lighted cabinets, adjustable ALS cabinets, a sliding hidden walk-through door, and much more.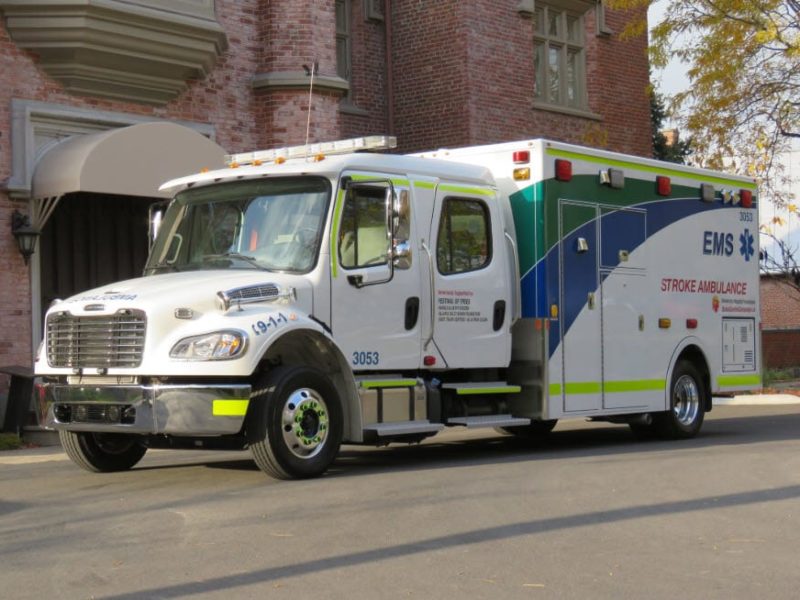 A mobile stroke unit can shorten the time between stroke onset symptoms and treatment delivery. Instead of utilizing a standard ambulance design and simply inserting a CT scanner with safety nets, Demers mobile stroke unit is completely designed around the CT scanner and stroke treatment. Equipped with integrated video and audio capabilities, Demers mobile stroke unit enables EMTs on board to share information with physicians while they are en route to the hospital.
Transit Type II Ambulance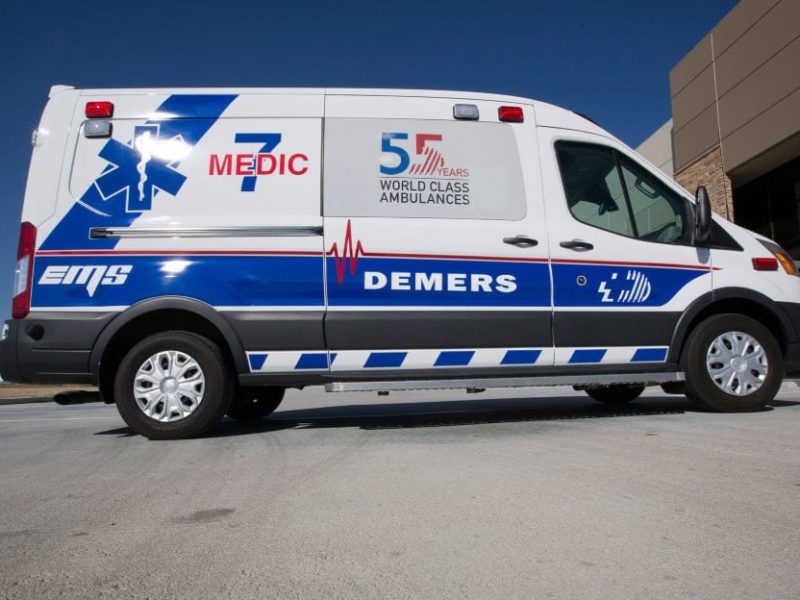 Selected as a Hot Product by the Journal of Emergency Medical Services, Demers Ford Transit Ambulance was developed to fit an industry need. Inside, the vehicle offers a comfortable interior and ample space for storage and medical equipment. Offering the right combination of size, space, and power, Demers Ford Transit vehicle has a long list of standard features that sets it apart from the crowd.
Ex-Sprinter Type II Ambulance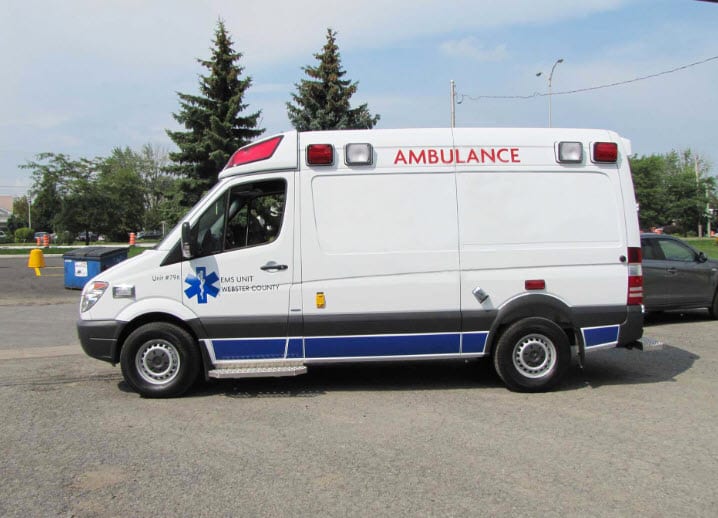 With distinctive details including a unique aerodynamic front cab riser and rear spoiler perfectly engineered to match the Mercedes Sprinter design, Demers EX Sprinter ambulance offers eye-catching style and premium safety for your patients and crew.
MX 170 Type III Ambulance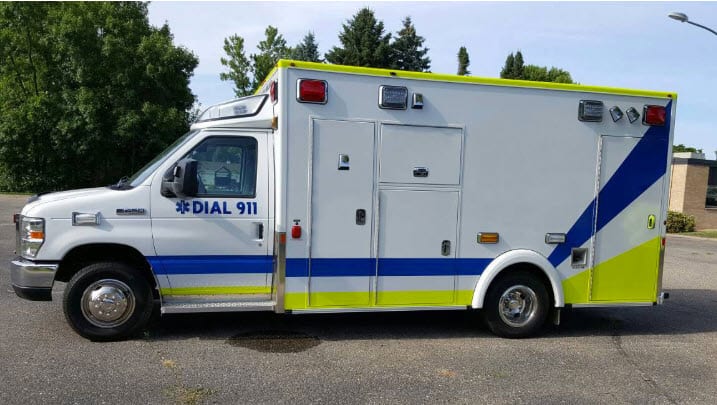 Demers MX 170 is a full-size Type III ambulance, offering a spacious interior for extensive medical equipment and an optimal ergonomic work environment for EMS providers. Tested to the harshest global standards, this ambulance is built with unique features including full length, all-aluminum extruded door construction for maximum storage access without compromising structural integrity. Equipped with Demers mobility track seat, the MX 170 is truly a category leader.
MX 164 Type III Ambulance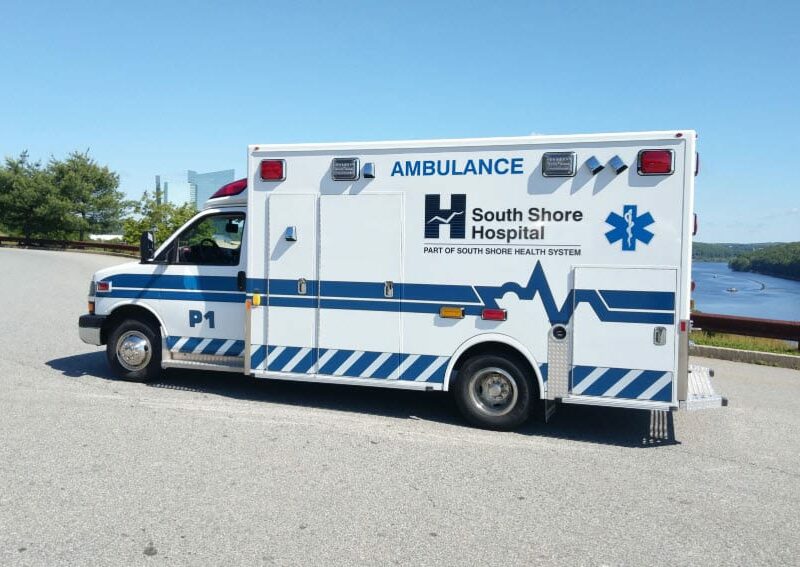 The MX 164 is Demers workhorse and overall best value Type III ambulance. With thousands of units in service around the world, this design offers best in class safety and ergonomics, reduced maintenance and multiple choices of layout features. Offering our industry-leading mobility seat as an option, Demers MX 164 ambulance is one-of-a-kind.
MX 152 Type III Ambulance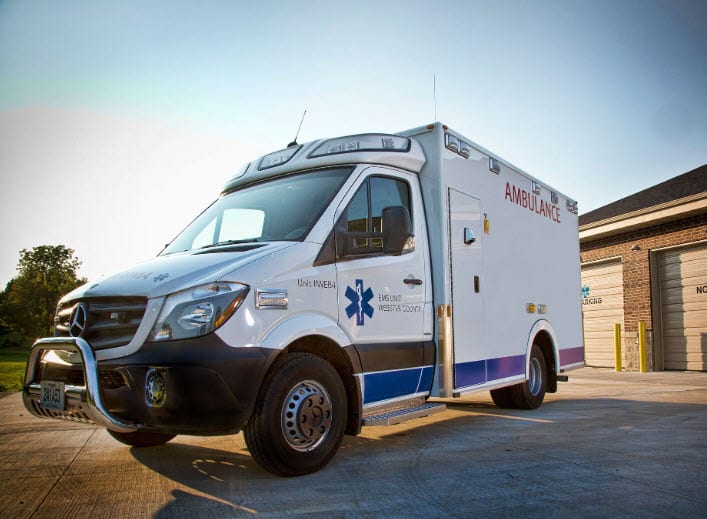 With distinctive details including a unique aerodynamic front cab riser and rear spoiler perfectly engineered to match the Mercedes Sprinter design, Demers MX 152 Ambulance offers eye-catching style. Offering the exclusive fold-out entry step and a roomy interior with expanded storage compartments, the MX 152 combines dynamic looks with exemplary performance.
MX 151 Type III Ambulance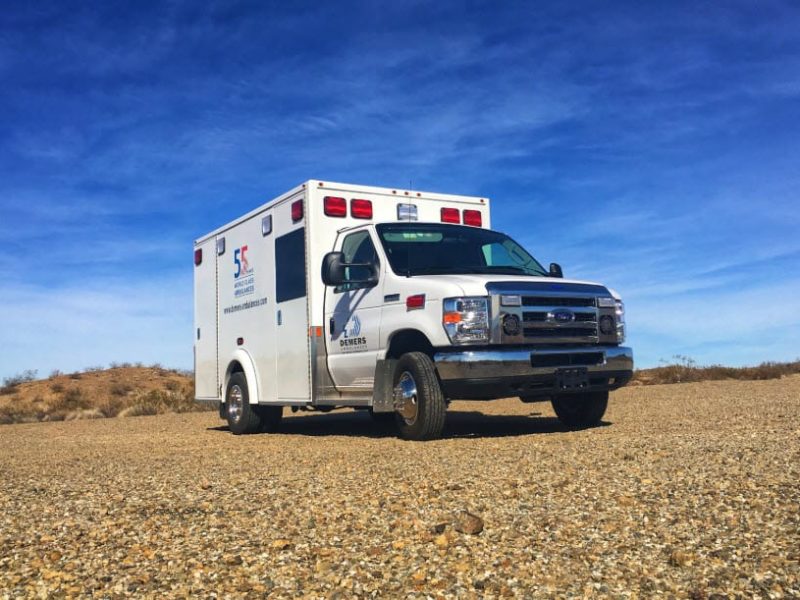 Also referred to as the "door forward" design, Demers MX 151 Ambulance features a curbside forward entry door design with the ALS equipment moved closer to the paramedics, keeping everything within arm's reach and enhancing patient care. Offering more standard features than other vehicles in its class, Demers MX 151 Ambulance is an affordably priced option for any department.
Demers Model Specifications and Drawings
Click on any of the models below and view the specs for that model. Model drawings and download specifications are also available!
| | | |
| --- | --- | --- |
| Model | MXP 150 | MXP 170 |
| Overall length | 285" – 291"* (724 cm – 739 cm) | 294"- 311"* (747 cm – 790 cm) |
| Overall width | 95" (241 cm) | 95" (241 cm) |
| Overall height* | 110" (279 cm) | 110" (279 cm) |
| Headroom | 72" (183 cm) | 72" (183 cm) |
| Chassis | Dodge 4500 Ford F350/450 GM 3500 | Dodge 4500/5500 Ford F450/550 Freightliner M2 |
| Drive type | 2X4 or 4X4 | 2X4 or 4X4 |
| Wheelbase | 162" – 168"* (411 cm – 427 cm) | 174" – 192"* (442 cm – 488 cm) |
| Payload capacity | Up to 4500 lbs (2041 kg) | Up to 5500 lbs. (2495 kg) |
*Depending on chassis selection
Total height of vehicle may differ according to chassis and suspension
For information on the Mobile Stroke Unit, please contact us
Model
Ex Sprinter 2500
Transit T250/Transit T350
Overall length
243" (617 cm)
236" (599 cm)
Overall width
79" (201 cm)
98" (249 cm)
Overall height*
75" (191 cm)
103" (262 cm)
Headroom
76" (193 cm)
69" (175 cm)
Chassis
144" (366 cm)
148" (376 cm)
Drive type
Mercedes-Benz
Ford Transit
Engine
3.0-liter V6 Turbo Diesel
3.5 liter Eco-Boost V6 (gas)

3.7 liter V6 (gas)

3.2 liter V6 (diesel)

Payload capacity
Up to 2,000 lbs (948 kg)
Up to 2,500 lbs (1134 kg)
*Depending on chassis selection
Total height of vehicle may differ according to chassis and suspension
Model
MX 151
MX 152
MX 164
MX 170
Overall length
258" (655 cm)
264" (670 cm)
271" – 278" (688 cm – 706 cm)
278" -284" (706 cm – 721 cm)
Overall width
88" (223 cm)
86" (218 cm)
95" (241 cm)
95" (241 cm)
Overall height*
103" (262 cm)
108" (274 cm)
106" (269 cm)
103" (262 cm)
Headroom
68" (173 cm)
72" (183 cm)
72" (183 cm)
72" (183 cm)
Chassis
Ford E350
Mercedes Benz 3500
Chevrolet Express 3500/4500 Ford E350/450
Chevrolet Express 4500

Ford E450

Wheelbase
138" (351 cm)
144" (366 cm)
158" -159" (401 cm – 404 cm)
158" -159" (401 cm – 404 cm)
Payload capacity
Up to 2500 lbs. (1132 kg)
Up to 2300 lbs. (1043 kg)
Up to 4500 lbs (2041 kg)
Up to 4000 lbs. (1814 kg)
*Depending on chassis selection
Total height of vehicle may differ according to chassis and suspension