Since 1975, Crestline has manufactured the safest and most reliable ambulances in the industry. As an ambulance manufacturer, Crestline distributes products that provide the best value, quality, performance, and safety. Their goal is to make a meaningful difference in the lives of their customers and the patients they serve. These ambulances are built to last, providing great value and durability for years to come. To ensure that your ambulance is the safest and most resilient that it can be, Crestline performs a series of tests in-house and at certified testing facilities. These tests include structural integrity, equipment retention, seating, electrical systems, and more. You can put your trust in a Crestline!
North Central now offers the CCL 150 from Crestline Coach, Ltd.
In today's ambulance market, EMS professionals have to prioritize the safety of the crew, product durability, and affordable pricing when purchasing a new fleet. Instead of choosing between these elements, EMS providers gain all of the best qualities with a Crestline CCL 150 ambulance. Each unit is built with the latest in industry innovations and technology, ensuring that Crestline customers can provide the best care possible. Crestline knows that a lot is riding on our customers. Make your job easier by riding in a Crestline.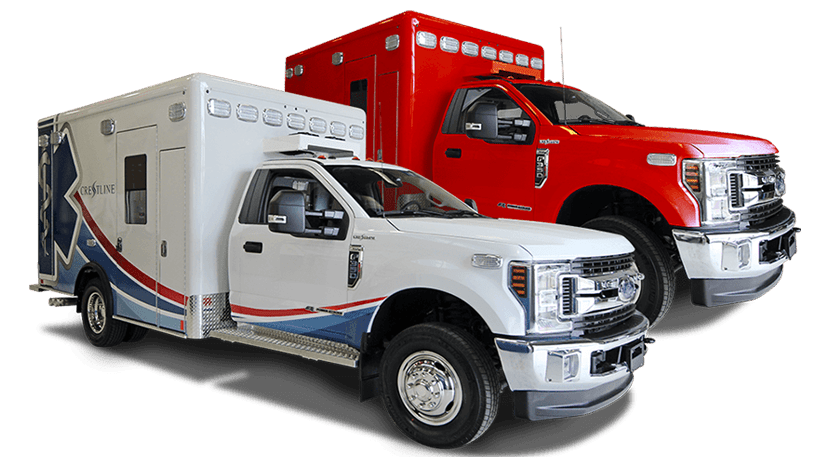 Built to last, the Crestline CCL 150 Type I Ambulance has safety and durability built directly into the unit. Backed by Crestline's Lifetime Paint warranty and Lifetime Structural warranty, this Type I ambulance will earn its reputation as an industry workhorse. Created with the latest safety features, the CCL 150 Type I has a multitude of standard features not found on ambulances at a similar price point.
CCL 150 Type III Ambulance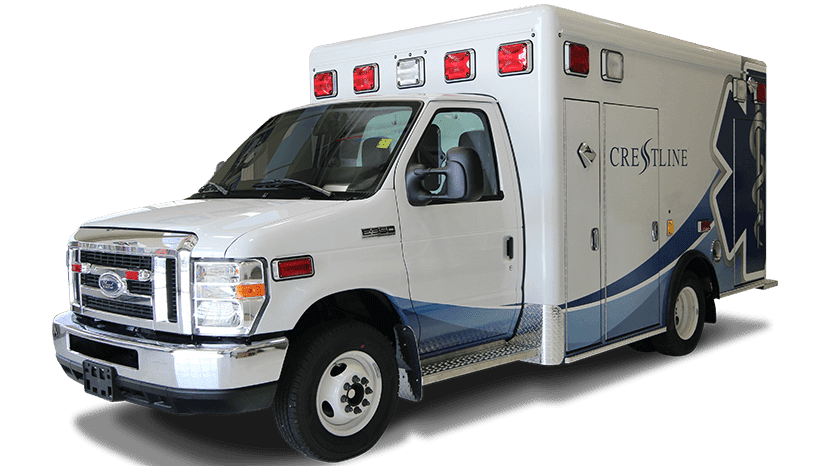 The CCL 150 Type III Ambulance offers a safe and durable ambulance at an affordable price. These Type III units are designed to allow for quick delivery, volume orders, and are easy to maintain and remount. This Crestline model features a factory-backed Lifetime Paint Warranty, Multiplex Electrical System, aluminum cabinets, and flush mount windows.
Crestline Model Specifications and Drawings
View the CCL 150 model specifications below.
| | | |
| --- | --- | --- |
| Chassis | Ford F350 4×4 | Chevrolet 3500HD 4×4 |
| Overall Length | 291″ | 294″ |
| Overall Width (with mirrors) | 96″ | 96″ |
| Overall Height | 111″ (optional 107″) | 109″ (optional 105″) |
| Headroom | 72″ (optional 68″) | 72″ (optional 68″) |
| Wheelbase | 169″ (429 cm) | 170″ |
| Payload Capacity | 2,975 lbs | 2,301 lbs |
| | | |
| --- | --- | --- |
| Chassis | Chevrolet G3500 | Ford E350 |
| Overall Length | 262″ | 257″ |
| Overall Width (with mirrors) | 96″ | 96″ |
| Overall Height | 102″ (optional 106″) | 102″ (optional 106″) |
| Headroom | 68″ (optional 72″) | 68″ (optional 72″) |
| Wheelbase | 139″ (353 cm) | 138″ |
| Payload Capacity | 3,190 lbs | 2,335 lbs |
Crestline CCL 150 Ambulance Standard Features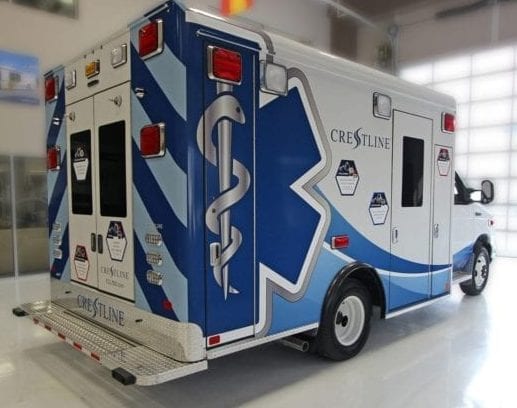 Aluminum Extruded Body Construction
150″ long X 96″ wide body with 68″ interior headroom, with 72″ option available
Fully certified: meets or exceeds KKK-A-1822F and GVS V2.0 standards, including GVS V2.0 remountable standards
Lifetime Structural Warranty
All aluminum extruded body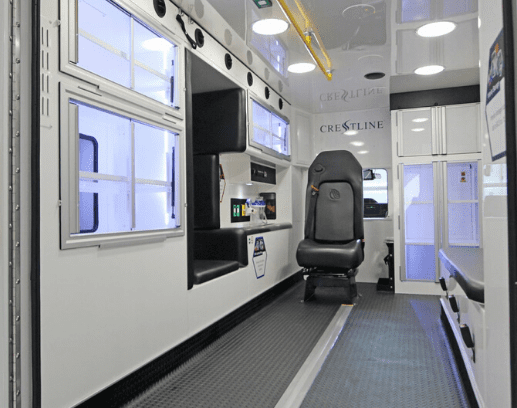 Aluminum Cabinets
Highly durable and long lasting
SAE Compliant Hardware
Lighter than wood, reducing overall weight
Powder coated with antimicrobial coating for sanitary surfaces and easy cleaning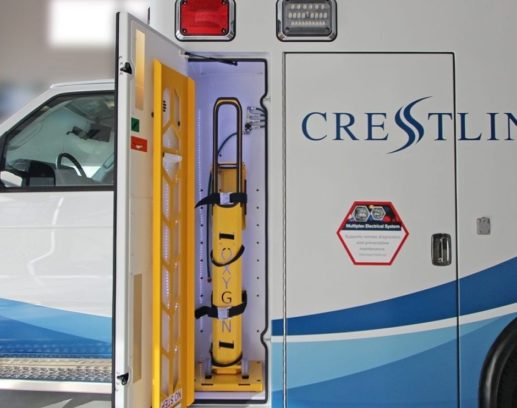 O2 To Go
Transport oxygen cylinders in a safe and effective manner
Lightweight and trouble-free with no systems to maintain
Reduces back injuries by eliminating the need to lift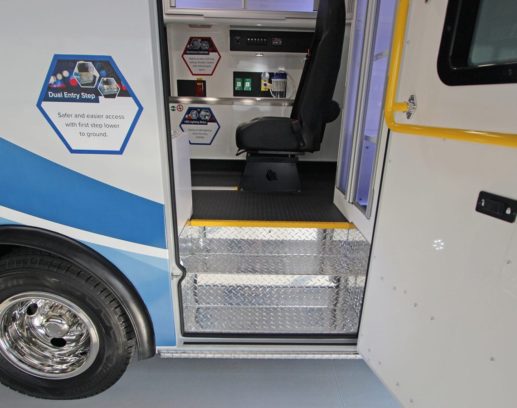 Dual Entry Step
Safer and easier access with first step lower to ground
Exclusive ergonomic feature designed for ambulatory patients
Eliminates repair with no moving parts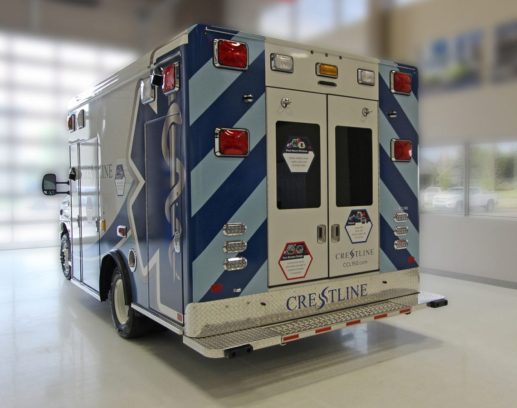 Flush Mount Windows
Automotive style windows for better visibility and corrosion resistance
Lower repair costs
Prevents leaks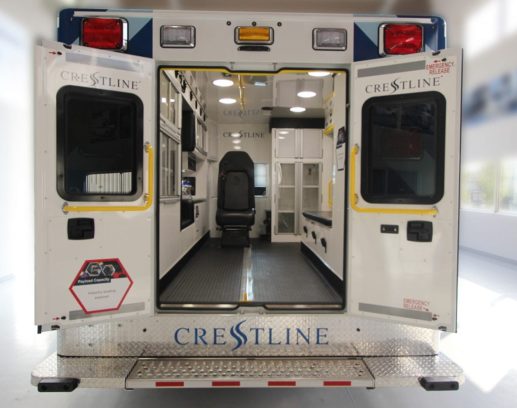 Rear Bumper Design
Underbody design eliminates damage to module when bumper is impacted, reducing downtime for repair
Kick-plate protects body from impact damage and road debris, provides protection and reduces corrosion